The latest release of EVP Office—version 8.5.0—is now available, and includes some major new features and more than a few friendly conveniences. As always, it's available for free from www.evpsys.com/software, is fully backwards compatible with all your existing portfolio files, and preserves your license key and settings if you install it over the previous version.
The latest release's biggest new feature is cryptographically secure communications for all evaluations. Previously, EstateVal and the other EVP Office applications communicated with the EVP Systems servers using a proprietary protocol developed over 25 years ago, before much of today's cryptography even existed.
But now, by switching to the new "Secure" evaluation method, the applications can send all their data using a standard encrypted protocol. (For the nerds, it's TLS 1.2 HTTPS over port 443, using SHA-256 with a 2,048-bit key.) SOCKS4, SOCKS5, and HTTP proxies are also supported, as is IPv6. The EVP Office applications have never sent Personally Identifiable Information (PII)—see our Data Privacy Statement—but now even the security identifiers and dates that are used in evaluations can be encrypted.
If you've been using EstateVal or the other EVP Office applications, don't worry! They'll continue to work as they always have. But if you'd like to enable the new secure protocol, go to Tools → Options → Communication and set Evaluation Connection Type to "Secure."
Also new are pre-evaluation pricing estimates. When you go to run an evaluation in EstateVal, GiftVal, or CostBasis, a dialog will show you how many securities the program thinks it needs to price, along with an estimate of what the charge will be. It's a handy way to get a heads-up on a portfolio's potential cost. And, if you don't want to see it every time, there's a checkbox on the dialog that allows you to turn it off.

Speaking of dialog boxes, the EVP Office applications now have color-coded warnings and errors, to make them easier to pay attention to. Warnings and alerts are colored yellow, and errors are colored red. This lets you easily see when there's trouble reported, and clues you in to more closely examine the text.
And also convenient is the new PDF button on all print-preview screens. Like Print generates a hard copy, and Write saves the data as a word processing file, PDF generates a PDF file. Sending reports via e-mail has never been simpler!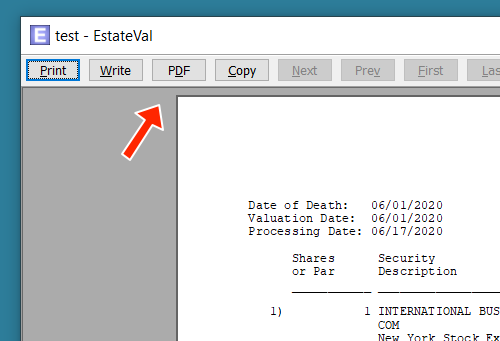 Finally, EstateVal now includes a complete training mode! Just select Help → Training Mode and you can use all the features and functionality of the program—even evaluations— without being charged. The data is all made-up (and the reports are all watermarked as such) but it is consistent across time, just like real information. You can experiment, test, and learn, without having to worry about being charged. If you have new co-workers who want to learn the software, or if you want to see how the more advanced features work, switch into training mode and give it a try.
There are over a dozen new features in EVP Office 8.5.0, and you can find the full list here. Download the latest version from www.evpsys.com/software today!