Released today, the latest version of the Gillett Estate Management Suite (GEMS) adds a powerful new feature, to quickly and easily price securities for Form 706: EVP Everywhere, from EVP Systems. Just by pushing a button — with no additional software to installation and incredibly simple configuration — GEMS can now add full details for every security in an estate, including complete and accurate EVP Systems pricing.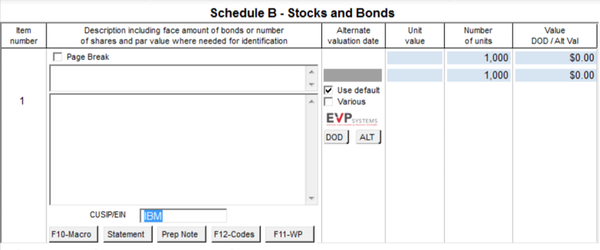 To use EVP Everywhere pricing in the new version of GEMS, just enter a ticker or CUSIP as you normally would and press the DOD (Date of Death) or ALT (Alternate Date) button, and, in about a second, the price and other details of the security appear. No muss, no fuss, and easier than it's ever been. EVP Everywhere uses the same pricing engine that powers EstateVal, so you get the exact same quality and calculations, just without having to install or run the software.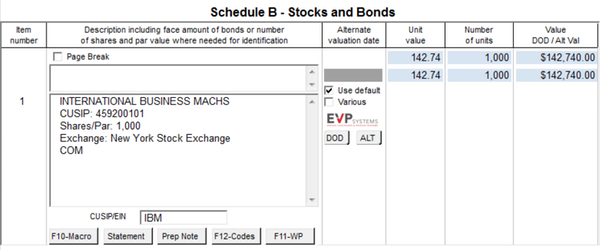 The cost for each evaluation — is the same as using EstateVal directly and appears on your EVP Systems invoice at the end of the month. If you don't already have an EVP Systems account, it's fast and easy (and free) to sign up.
EVP Everywhere is EVP Systems' latest product, a network-based service that allows other software to gain access to EstateVal's historical securities pricing without requiring that EstateVal be installed. EVP Everywhere takes a CUSIP, SEDOL or ticker symbol and produces a complete and accurate evaluation, all according to the rules governing IRS Form 706, and all via the Internet.
If you're already a GEMS user, upgrade today! If you'd like to sign up to use the Gillett Estate Management Suite, visit their website, e-mail them at sales@gillettpublishing.com, or call 888-GEMS706.
If you're already an EVP Systems client, and need an Account Key to use the new GEMS evaluation feature, please contact our Support Department at (818) 313-6300 or support@evpsys.com. If you'd like to sign up for an EVP Systems account, please visit our sign-up page.
If you have questions about how you can use EVP Everywhere to add fast and accurate historical securities evaluations to your own software, please contact the EVP Sales Department at (800) 521-4594 or sales@evpsys.com.