The Heckerling Institute on Estate Planning — the biggest event of the year for the estate-tax industry — is held every January in Orlando, Florida, and EVP Systems is there!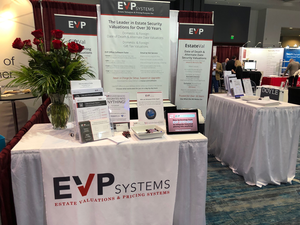 During the entire week of January 13-17th, EVP Systems will be on the show floor, at Booth 328, available to offer demos, talk shop, and answer questions about EVP Office, EVP Everywhere, and EVP Professional Services. If you're at the convention, please stop by! We'd love to hear from you.
Heckerling is a great chance to catch up with all the latest from EVP Systems. EVP Office 8.4 adds the ability to prices foreign currencies and precious metals, while EVP Everywhere is now integrated directly into TEdec, GEMS, and EstateWorks, with Lackner 6-in-1 on the way.
We've got lots of great hand-outs that explain the advantages of our software (a great user interface, copy-and-paste from Excel, simple file management, Section 508 compliance, and tons more) and our company (disaster recovery documentation, an information security policy, employee NDAs and background checks, compliance with the GDPR and CCPA, and more still). If your tech or compliance departments need information about us, or you just want to put your own mind at ease, please ask.
And, of course, we've got swag!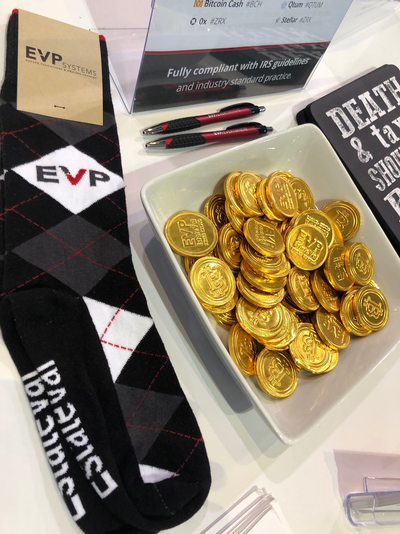 Stop by the booth and pick up a pen or have some chocolate. Let it slip that you're an EVP Systems client and your feet are cold, and you'll get a fancy pair of EstateVal socks. And be sure to fill out a raffle card for a chance to win an Amazon Echo Show 5!
And don't forget to ask the gizmo on the table to evaluate a security for you! To demonstrate how easy it is to automate valuations by integrating EVP Everywhere into your own systems, we rigged up an Amazon Alexa Show to do just that. Tell it:
"Alexa, ask the demo to price IBM for November 15, 2016."
And in about a second, you'll get back:
For a November 15th, 2016 date-of-death, INTL BUSINESS MACHINES CORP. (IBM) had a value of $158.35 and an accrual of $1.40, for a total value of $159.75 per share.
Like EstateVal, EVP Everywhere (and the talking gizmo) prices over a dozen cryptocurrencies, hundreds of foreign currencies, and precious metals, in addition to millions of securities.
See you there!