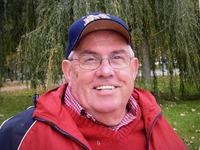 Jack Barthel—EVP Systems long-time salesman and good friend—passed away on December 30, 2021. He leaves behind Dee Dee, his wife of 56 years, six children, and eight grandchildren.
For a decade and a half, Jack headed up EVP Systems' Sales Department, before retiring in 2007. He was responsible for much of our initial success, and helped establish EVP as an industry leader by being honest, friendly, funny, and smart—setting a standard that we try to live up to every day. He improved everyone and everything around him.
Thank you for everything, Jack. You will be missed.