Users of TEdec Fiduciary Accounting Software have a powerful new tool to price their client's estates — integration with EVP Systems' new EVP Everywhere. Without the installation of any other programs, users of the latest release of TEdec can add Date of Death or Date Entity Created (for estates and trusts), or Alternate Values and Period End Values (for Annual Trust Accountings) with the push of a button, getting fast and accurate prices using the same software that powers the industry-leading EstateVal.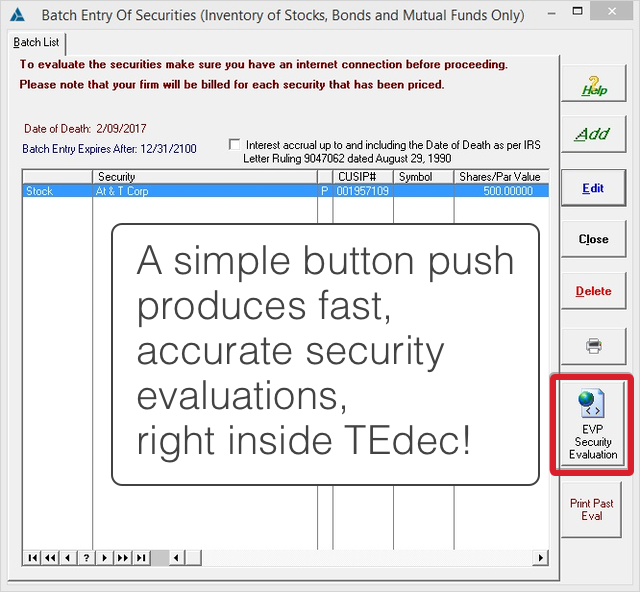 TEdec Fiduciary Accounting Software is the first trust and accounting system to integrate EVP Everywhere. TEdec users just enter securities as they normally would via the Batch Entry of Securities dialog box, and then click the "EVP Security Evaluation" button. In just seconds, TEdec will format all of the details for a security (name, exchange, high, low and mean, etc.) and automatically generate an inventory record in the Journal and a confirming report for your records. The cost for each evaluation — the same as using EstateVal directly — appears on the user's EVP Systems invoice at the end of the month. If the user doesn't already have an EVP Systems account, it's fast and easy (and free) to sign up.
EVP Everywhere is EVP Systems' latest product, an evaluation-as-a-service interface that allows other software to gain access to EstateVal's historical securities pricing without requiring that EstateVal be installed. Like Google Maps takes a location and displays a map without any of the details having to be on your local machine, EVP Everywhere takes a CUSIP, SEDOL or ticker symbol and produces a complete and accurate evaluation, all according to the rules governing IRS Form 706 Schedule B, and all via the Internet.
If you're already a TEdec client, upgrade today! If you'd like to sign up to use TEdec Fiduciary Accounting Software, visit their website, or call (800) 345-2154 or (716) 938-9137.
If you're already an EVP Systems client, and need an Account Key to use the new TEdec's evaluation feature, please contact our Support Department at (818) 313-6300 or support@evpsys.com. If you'd like to sign up for an EVP Systems account, please visit our sign-up page.
If you have questions about how you can use EVP Everywhere to add fast and accurate historical securities evaluations to your own software, please contact EVP Sales at (800) 521-4594 or sales@evpsys.com.