If you're a GEMS (Gillett Estate Management Suite) user, you recently received an e-mail telling you about the software's brand new integration with EVP Systems' EVP Everywhere. But what is EVP Everywhere, and how can it help you as a GEMS user?
EVP Everywhere is service that prices securities for Form 706 Schedule B filing, directly from within GEMS. With the click of a button — and without having to install or maintain any additional software — GEMS almost instantly retrieves historical data for a wide range of instruments: stocks, bonds, mortgage-backs, UITs, mutual funds, even cryptocurrencies! It's incredibly convenient, and is powered by the same fast, accurate, and complete pricing engine that's in EstateVal.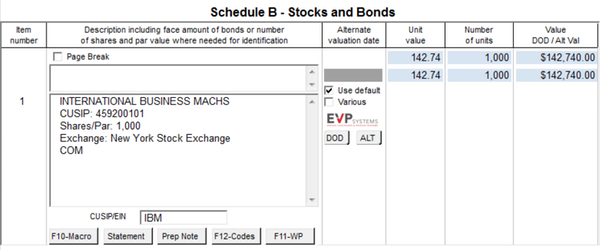 If you're running the latest version of GEMS, the only thing you need to enable this powerful feature is an EVP Systems Account Information Key.
If you're not an EVP Systems client yet, you can sign-up for an account — it's free! — and we'll send you a Key the same day.
If you are already an EVP Systems client, just e-mail our Support Department with your account code or company name, and ask for an Account Information Key and we'll send it back as soon as possible.
If you don't already use GEMS, but think that getting prices directly inside your estate management system sounds pretty great, you can sign up at the Gillett Publishing website, e-mail them at sales@gillettpublishing.com, or call 888-GEMS706.