With the release of EVP Office 9.0.1—as always, available as a free upgrade from our website—EstateVal and the other applications in the suite have learned some new tricks. This is a minor upgrade that has some handy features, but there's no reason to rush to update if you don't need them.
Built-In Calculator: Every numeric field in all the programs now has a four-function calculator built in! You can enter numbers as you always have and nothing will be different, but if you use any of the arithmetic characters (+, -, * or x, /), the software will pop up a box that lets you enter a full mathematic expression, and updates the result as you type. When you're done, just hit Return and the result will be dropped back into the field you were editing. Not having to bring up the system calculator to add two numbers and then copy-and-pasting the value is a handy little trick.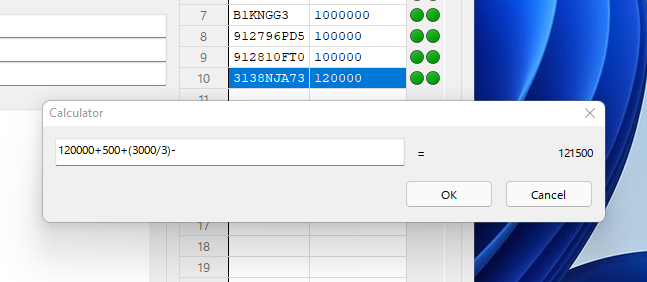 More Cryptocurrencies: As the crypto landscape expands—and as the IRS takes a greater interest—EVP Systems is committed to keeping up. When we introduced cryptocurrency pricing to estate valuations in 2019, we started with what were then the thirteen most popular coins. Some remain very actively traded, but others have been replaced at the top of the market-capitalization list with newer offerings. So EVP Office 9.0.1 supports a dozen new coins, including all of the current top ten, all available to be directly entered into the grid or looked up via Tools → Look Up → Cryptocurrency Identifiers.... The new coins are: Cardano (#ADA), Avalanche (#AVAX), Binance Coin (#BNB), Dogecoin (#DOGE), Polkadot (#DOT), Chainlink (#LINK), Terra Luna (#LUNA), Shiba Inu (#SHIB), Solana (#SOL), Uniswap (#UNI), USD Coin (#USDC), and Tether (#USDT).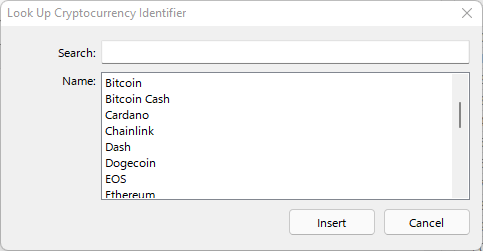 New Excel Export: EstateVal, GiftVal, and CostBasis also have a new export format—a simple Excel spreadsheet that uses one row for each lot, called "Excel (XLSX, Simple)". It's not as detailed as the regular reports (or their Excel-export equivalents), but it's a great way to output penny-accurate summaries that make sorting, subdividing, and subtotaling a portfolio much easier. To use this new format, just select it in Tools → Options... → Export.
There are more new features and a few bug fixes in the new version, too. As always, the full list is on our website, along with the free upgrade.